Page:
1
2
3
4
5
6
7
8
9
10

• Goto Comments
---
1/15/2010. On the Wizkids Facebook site, Wizkids said they will reject any Brick figure mailings that are postmarked before release day.

1/15/2010. Brave and the Bold has a new release date - April 14th!

1/15/2010. Wizkids has released new card images for Flash/Green Lantern and Braniac!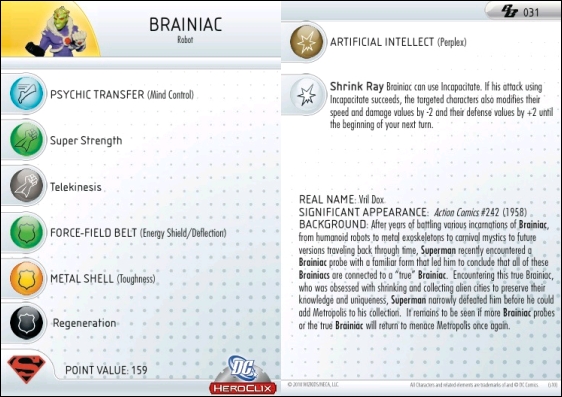 Shrink Ray: Braniac can use Incapacitate. If his attack using Incapacitate succeeds, the targeted characters also modifies their speed and damage values by -2 and their defense values by +2 until the beginning of your next turn.

Wow. Nasty stuff. That power reminds me of playing Duke Nukem 3d back in college.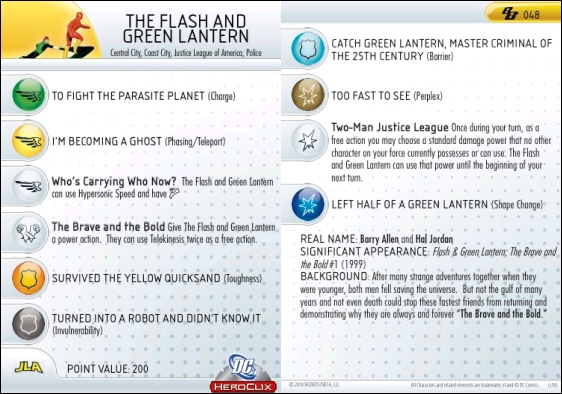 Who's Carrying Who Now?: The Flash and Green Lantern can use Hypersonic Speed and have the [BOOT] symbol.

The Brave and the Bold: Give The Flahs and Green Lantern a power action. They can use Telekinesis twice as a free action.

Two-Man Justice League: Once during your turn, as a free action you may choose a standard damage power that no other character on your force currently possesses or can use. The Flahs and Green Lantern can use that power until the beginning of your next turn.

Wow. That's really nasty stuff. Basically a free Outwit, which will definitely come in handy!

1/13/2009. These images were found on ICV2.com. They also mention two interesting bits of info:
"Alter Egos allow players to start the game with a hero in his or her secret identity--like Clark Kent, then at a critical moment change the figure into the hero in costume--Superman."

"If demand exceeds supply [for the numbered brick figure], there will be a limited time period during when customers can mail away for an un-numbered version of the Batman and Catwoman' figure."

You can view the whole press release and larger version of these images directly at ICV2.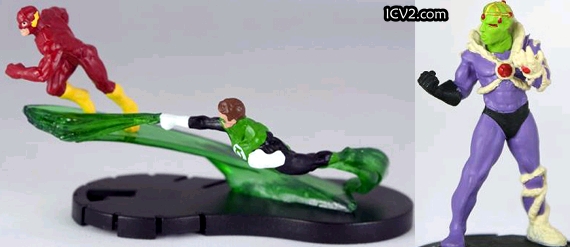 Page:
1
2
3
4
5
6
7
8
9
10